Last week (October 12th to 14th, 2018) I attended my second CanCon SF in Ottawa. It was every bit as good (if not better!) than last year's convention with great programming, wonderful conversations, and BOOKS. Oh, my goodness the books. Despite having a huge TBR (To-Be-Read) Pile lurking at home, I bought no less than 8 books, most of which were all new releases within the last year, some of which having just come out at or around the convention. I wanted to include them here in a post partly because I am excited to share and partly because I want to have somewhere to remind me to read all these wonderful books before next year's convention.
Of the eight books I already owned and read Kelly Robson's wonderful Gods, Monsters, and the Lucky Peach in e-book format, but had to get a physical copy for Kelly to sign at the convention. I think I managed to scoop the last copy at the Perfect Books table in the dealer's room. I had a great (but quick) chat with Kelly in the hallways between panels about time travel and environmental issues and she signed the book "Science Fiction Forever".
Here's the blurb from the back cover of the book.
Discover a shifting history of adventure as humanity clashes over whether to repair their ruined planet or luxuriate in a less tainted past.

In 2267, Earth has just begun to recover from worldwide ecological disasters. Minh is part of the generation that first moved back up to the surface of the Earth from the underground hells to reclaim humanity's ancestral habitat. She's spent her entire life restoring river ecosystems, but lately Minh's kind of long -term restoration projects have been stalled by the invention of time travel. When she gets the opportunity to take a team to 2024 BCE to survey the Tigris and Euphrates rivers, she jumps a the change to uncover the secrets of the shadowy think tank that controls time travel technology."
It's a great story, filled with thought provoking characters and situations, but also a great action and time travel story that adds to the genre. Being a fan of time travel and also working in the environmental field, this book hit a sweet spot for me. I really need to find time to write a proper review of it. I loved discovering it at this point in my life, but wonder what it would have triggered in me had I discovered it 30 years ago as an undergrad in University studying Environmental Science. Hmm, maybe I should send it back in time and see?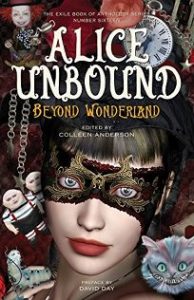 At the convention I attended a reading by a group of the authors involved with the Alice Unbound – Beyond Wonderland anthology edited by Colleen Anderson and published by Exile Editions.
This collection of twenty-first century speculative fiction stories is inspired by tthe Alice's Adventures in Wonderland, Alice Through the Looking Glass, The hunting of the Snark, and to some degree, aspects of the life of the author Charles Dodgson (Lewis Carroll) and the real-life Alice(Liddell).
The stories that I was privileged to hear read by the authors covered a wide variety of styles and characters plucked from the stories and I can't wait to delve into this book further.
Kate Heartfield is a journalist and local Ottawa writer who I follow online. While she's written and sold a couple of novels, Armed in Her Fashion is the first to come out in print and is published by Chizine Publication. In an interview with Peter Robb at Artslife.ca Kate summed up Armed in Her Fashion as "the story of a wet nurse in 14th century Flanders who raids Hell to get money back from her dead deadbeat husband. She's a very unlikable person and I had a lot of fun writing her."
Here's the full blurb from the book cover:
In 1328, Burges is under siege by Chatelaine of Hell and her army of chimeras – humans mixed with animals or armour, forged in the deep fires of the Hellbeast. At night, revenants crawl over the walls and bring plague and grief to this city of widows.

Margriet de Vos learns she's a widow herself when her good-for-nothing husband comes home dead from the war. He didn't come back for her. The revenant pulls a secret treasure of coins and weapons from under his floorboards and goes back through the mouth of the beast called Hell.

Margriet killed her first soldier when she was eleven. She's buried six of her seven children. She'll do anything for her daughter, Beatrix, even if it means raiding Hell itself to ger her inheritance back.

But Beatrix is haunted by a dead husband of her own, and blessed, or cursed, with an enchanted distaff that allows her to control the revenants and see the future. Together with a transgender man-at-arms who as unfinished business with the Chatelaine, a traumatized widow with a giant waterpowered forgehammer at her disposal, and a wealthy alderman's wife who escapes Burges with her children, Margriet and Betrix forge a raiding party like Hell has never seen.
What's not to like in that description! I have never read anything like it based on that blurb and am looking forward to reading it in the near future.
Still with me? Good. Just a few more books to go! Next up is Chadwick Ginther's book Graveyard Mind also published by Chizine Publications. I had the opportunity to hear Chadwick read from this book last year at CanCon and was excitedly waiting to pick it up now that it had been released. The premise of this book and the setting was unique and I am eagerly waiting to read this one. Ugh, so many good books, why can't I stuff them all in my eye-holes at once and feed my brain.
Here's the blurb for Graveyard Mind.
In Winnipeg's underworld, every mortician is on the take and every revenant of myth waits to claw their way out of their tombs. The dead stay in the ground because of Winter Murray, a necromancer of the Compact. A victim of abduction and a criminal herself, Winter stalks Winnipeg's Graveside, preventing larger, more heinous crimes from spilling over into the lives of the Sunsiders, no matter what laws of gods and men she must break to do so. Winter is a chimera, sharing the genetic material of her own never-born fraternal twin sister. Her dead twin's essence provides her a link to the Kingdom—the land of the dead—and a tie to a past she's run from for thirteen years. Winter struggles to find a redemption she doesn't believe she deserves. The temptation of dirty deeds is everywhere: An animated skeleton with a penchant for wearing dead men's clothes wants her on his payroll. Her deceased, but not gone mentor, still pushes her to take the easy way by being hard. A composite man assembled from soldiers who still puts boot to ass when Winter demands. A vampire that wants just a taste. Each pulls at Winter ensuring a normal life remains eternally out of reach, and the easy way is anything but."
I mean, zombies, vampires, and skeletons and necromancers set in Winnipeg. What's not to love?
Okay next up are two graphic novels that caught my eye at the Myth Hawker's Travelling Bookstore in the dealer's room. The graphic novels are both from AH Comics a small independent publisher based out of Toronto. The first is Moonshot – The Indigenous Comics Collection – Volume 1 which was released in 2015 and contains 14 indigenous stories written by indigenous artists and illustrated by a number indigenous and non-native artists in the comics industry.
The artwork and production values in this collection are amazing and there's even a Volume 2 out already and while it sorely tempted me in the dealer's room, I resisted (for now!) until I have had a chance to read this one. Plus I wanted to throw some cash at this next graphic novel.
Mark Twain's Niagara – The Graphic Novel
"…is an adventurous graphic novel based on the short story "Niagara", written by Mark Twain in the 1860's, published in 1875. This graphic novel adaptation follows a young Twain as he travels by steam train to the Niagara region for the first time, in his lifetime. There, he embarks on an incredible journey through legend and history, encountering familiar figures – some living, some long since passed."
Each of the stories is done in a different style and really brings history of the Niagara region to life. I love local history and Mark Twain as storyteller so this seems right up my alley. The website for AH Comics note that this launched this past year at the Niagara Falls Comic-Con in June and that there is a Book 2 planned. I am sure I will be buying that next year along with Moonshot 2.
The Guest of Honor (GoH) at this year's CanCon SF was author Kevin Hearne who's probably best known for his urban fantasy series Iron Druid Chronicles which spans an 9 books. I had followed Kevin on Twitter for a number of years, but hadn't actually read any of his fiction (There's never enough time!). This year I remedied that buy downloading Audible versions of both the first Iron Druid Chronicle – Hounded and his co-authored book Kill the Farm Boy which is a send up of D&D parties and Fantasy Tropes with Deliah S Dawson. By the end of both books, I was kicking myself for not having read/listened to his work before now. At the Convention I sat in on a couple of Kevin's panels and met with him during his Kaffeklatch round table on the final day of the convention. He's a geuninely nice guy and writer and I couldn't have been more pleased having met him. I got him to sign a hardcover copy of Kill the Farm Boy for a friend as a present, and for myself I picked up a copy of his epic fantasy novel – A Plague of Giants in paperback. It's the first book in a new series and I am looking forward to reading it. Its been a while since I read any epic fantasy and I can't wait.
Okay and my final CanCon SF book purchase this year was not in the dealer's room, but at a book launch. CanCon co-chair Derek Kunsken was launching his first novel – The Quantum Magician published by Solaris at the con. Derek reads from the book and described it as epic heist novel in space. Here's the blurb for it from the publisher.
"Belisarius is a Homo quantus, engineered with impossible insight. But his gift is also a curse—an uncontrollable, even suicidal drive to know, to understand. Genetically flawed, he leaves his people to find a different life, and ends up becoming the galaxy's greatest con man and thief.

But the jobs are getting too easy and his extraordinary brain is chafing at the neglect. When a client offers him untold wealth to move a squadron of secret warships across an enemy wormhole, Belisarius jumps at it. Now he must embrace his true nature to pull off the job, alongside a crew of extraordinary men and women.

If he succeeds, he could trigger an interstellar war… or the next step in human evolution."
So it looks like I have my reading cut out for me between now and next year's CanCon. Oh, and I might have forgot to mention that I WON a basket of books from ECW Press as part of a door prize, but that's for a different post.
Actually I bought one more book that was featured at the convention, but technically I bought it after I got home on ebook and that was Matt Moore's short story collection – It's Not the End.
"Only able to recall the memories of others, a ghost must solve the mystery of his own death. The zombie apocalypse is the gateway to a higher human consciousness. An amusement park of the future might turn you into the attraction. An engineer-turned-mercenary races to kill the saviour of mankind. After the sky falls, can anyone still hope?

Twenty-one horror and science fiction tales of the bizarre, the terrifying, the all-too-near future."
So what looks good to you out of that pile? Where should I start?