Writing is a long journey and as a writer it helps to stop and get the lay of the land every once in a while. To pause and look back and to see how far you've come, but also l to look ahead at that next summit, catch your breath and say"Let's do this".
I've been writing all my life. Most of it spent wandering aimlessly hoping I would hit upon some magic formula for success. (What can I say I was young and naive)  I wasted much of my youth thinking I had all the time in the world to write and that someday I would REALLY crack down and take it seriously. It wasn't until my wife and I were expecting our first child 12 years ago that I committed myself to this path that I am on now.
I realized then that if I didn't double down and make an effort that I risked losing my writing to the demands of parenthood and family life. It would be far too easy to say – "I'll pick it up again when my kids are older and I have more time." Of course there never is enough time. You have to carve that time out of everything.
I became active in writing groups, both while I was living in Toronto and now here in Sudbury. I attended workshops, read books about writing, and most of all took the time to write. Ever so slowly, its been paying off. My writing has steadily improved and just last year I sold my first short story, Second Harvest to Fictionvale.com.
Back in 2011 one of my writing buddies – Stephanie Charette applied to and attended a workshop called Viable Paradise at Martha's Vineyard. The workshop is a week long intense session with professional writers and editors in science fiction and fantasy. Here's how they describe the workshop:
Viable Paradise is a unique one-week residential workshop in writing and selling commercial science fiction and fantasy. The workshop is intimate, intense, and features extensive time spent with best-selling and award-winning authors and professional editors currently working in the field. VP concentrates on the art of writing fiction people want to read, and this concentration is reflected in post-workshop professional sales by our alumni. ~From Viable Paradise website.
Stephanie came back from that workshop a changed person.  She encouraged me to apply practically the minute she stepped off the plane in 2011. I wanted to attend, but I somehow had excuses for not applying each year. Too busy with work. Too busy with family commitments. I can't afford the money this year. I can't get the time off work. "Next year I'll apply" I said. For three years. 
Then 2015 came around and I looked up at that next summit and said "Let's do this!" My family was on board and I was finally in a position at work where I could manage the time off. I enlisted the help of my writing circle of friends both to be my cheer leading squad and to help me whip my application into shape.
I submitted my application a few weeks before the application period closed and waited – until yesterday when I got the word.
– I have been accepted! Look out VP19 here I come! (Well, in 4 months anyhow)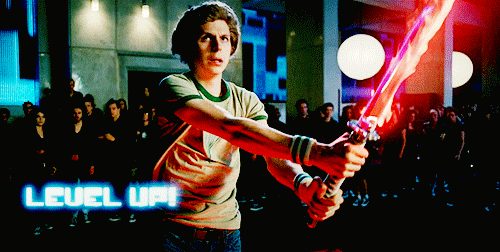 I suddenly feel like I have levelled up as a writer. Ready to take on this challenge. (Okay maybe the true Level Up won't come until AFTER the workshop, but you know what I mean.)
Thanks to everyone who has supported me along the way on this journey, I couldn't have done it with out you. I'm looking forward to this next chapter in my writing life and more than just the new skills I will add to my tool kit, I am looking forward to the new friendships and personal connections that will flow from it.